Excellent reliability was the key difference in new investments of Tantec's solution
Since 2010 Tantec VacuTEC system have been in constant use in three-shift operation at Antolin Interiors. With an excellent reliability during the past 9 years, the customer had no doubts when it came to purchasing another two customized VacuTEC-systems.
Background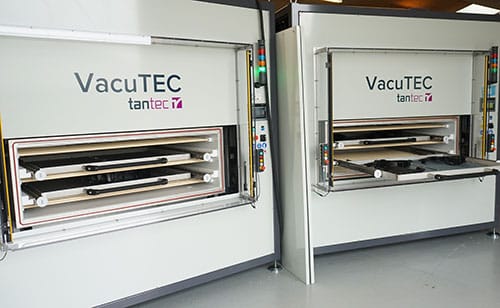 Grupo Antolin is one of the leading global automotive interior manufacturers and the global leader in headliner substrates. It offers high added value products to outfit automobile interiors, overheads, trunk trim, doors and hard trim, lighting and cockpits and consoles. With a long industrial tradition and proven track record in a huge portfolio of technologies, Grupo Antolin is recognized as a benchmark brand in the automotive sector. Grupo Antolin has sales of more than €4 billion and a workforce of around 28,000.
The challenge
Door panels made from injection moulded polypropylene need to be treated in a vacuum treating chamber because of their low surface tension. Vehicle door panels are laminated with a soft covering. To ensure an adhesion requirement of the PU water-based adhesive on their surface, Grupo Antolin has decided to treat their parts with a Tantec vacuum plasma system before laminating.
Why Tantec?
Apart from the high stability obtained by Grupo Antolins first investment in VacuTEC-systems, other factors also had a part to play. Amongst others, the customer mentions the ability to surface treat 3D formed parts without distortion. Also, economic factors and flexibility were of vital importance. Since the implementation of the first VacuTEC-system, results have shown that employee resources are used more effectively because fast treatment brings down waiting times to zero.
Another important reason for investing in VacuTEC is that other plasma manufacturers often require the connection of other gases. VacuTEC is built up, so this is not a necessity. This reduces costs, logistics and administration. As a further advantage, the system has proven to be very user friendly due to its intuitive handling.
Impressed
"Tantec's excellent cooperation and motivation to customize the 2 vacuum plasma systems to our needs were decisive factors during the investment process. We are also impressed by the machine quality. Combined with our first Tantec machine from 2010, which has been running stable and reliably ever since, this made our decision very easy", says a specialist from Grupo Antolin.
Benefits for Grupo Antolin with Tantec's VacuTEC:
The VacuTEC offers very fast treatment times and optimum adhesion properties for downstream coating, gluing, painting and printing applications. In the vacuum treating chamber a vacuum is built up to between 0,5 and 6 mbar before an electrical discharge is created through the integrated plasma electrode.
This electrode to electrode technology helps to intensify the treatment resulting in shorter treatment cycle times and in most cases gases will not be necessary. Treatment times can be between 2-120 seconds depending on the material and its formulation.
The VacuTEC is appreciated for its simplicity of operation, reliability in production and fast process speed.
With VacuTEC, you have the ability to achieve:
Even and uniform treatment on all surfaces of three-dimensional parts
Treatment of specific spots on three dimensional parts
Treatment of large parts
Surface modification without affecting the bulk material.
Cost efficiency and long-lasting durability of adhesion properties
Environmental friendly solution
Tantec offers standard and customized equipment to be integrated as a part of the production process and can be integrated in new or existing on-line production environments.
Long-term partnership
We have worked closely with Tantec for many years on various projects, and often used the Tantec equipment as part of our new developments and experiments. Having all the equipment from Tantec available in our lab makes our work faster and more efficient. The cooperation with Tantec has always been beneficial to both companies.