How do you treat the inside of a closed plastic bag?
By Morten Thrane, CEO, Co-owner/partner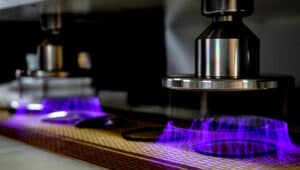 Tantec Plasma Treatment equipment has many different applications. As an example, in the medical industry, we have solved many problems with our machines and expertise.
"Plasma in a bag" is a new low-cost technique for coating the inside of closed plastic bags by means of atmospheric pressure plasma, by using the Tantec RotoTEC-X.
The problem is:
How do you treat the inside of a closed plastic bag, without opening it?
The solution is:
With the use of Tantecs RotoTEC-X system, you can treat the inside of a plastic bag
The plasma treatment technique allows the deposition of homogeneous, long-term stable functional layers on the inner surfaces of cell culture bags. The area density of functional amino groups was determined by chemical derivatization in combination with ATR-FTIR spectroscopy.
A prototype of an equipment was built for the automated and reproducible deposition of coatings under standard laboratory conditions maintaining the sterility of the bag.
High yields of adherent grown human mesenchymal stem cells can be achieved even after long periods of storage of the bag before use. With suitable variation of the film-forming agent, different functionalities can be obtained on the surface.
Below you can see a video with the scientists at Frauenhofer Germany who were involved in the project. NOTE: The video is in German and you will see the RotoTEC-X in action after about 2.20 min:
Plasma in a bag:
You will find the original article here (in English):
https://www.fraunhofer.de/en/press/research-news/2013/june/plasma-in-a-bag.html
You can see the specifications of our RotoTEC-X here: Corona treatment of plastic products
Long-term partnership
We have worked closely with Tantec for many years on various projects, and often used the Tantec equipment as part of our new developments and experiments. Having all the equipment from Tantec available in our lab makes our work faster and more efficient. The cooperation with Tantec has always been beneficial to both companies.

Video: Fraunhofer – Plasma im Beutel (Tantec RotoTEC-X)