Flexible Corona treater system for treating of 3-Dimensional glass and glass sheets
A major European glass producer selected a Tantec corona treatment solution to improve the bond strength of their coating to glass sheets. This customer needed a solution that can treat both flat sheets and 3D shaped glass in the same machine. The Tantec RotoTEC-X with some customizations fit the customers' needs and requirements, as well as being simple to install inline.
Why invest in a corona treater?
It is often necessary to coat glass sheets as part of the manufacturing process. The purpose of surface treatment of glass is to increase surface wettability through electrical discharge. The low surface energy of glass materials often leads to poor adhesion of inks, glues, and coatings.
To obtain optimum adhesion, it is necessary to increase the surface energy of the substrate to just above that of the material to be applied. A Corona treater provides improved surface adhesion properties.
The customized Corona Treatment unit is well equipped to ensure consistent treatment of the variations in the glass panels size and shape which can be processed at a range of treatment speeds. The solution ensures uniform treatment levels with rotating electrodes. The accurate positioning of the electrodes ensures no damage to the material's surface while achieving optimal, consistent treatment levels.
"We again chose the Tantec corona treatment solution, as we only have good experiences with the collaboration. The decisive factor was price and quality", says the Head of Engineering.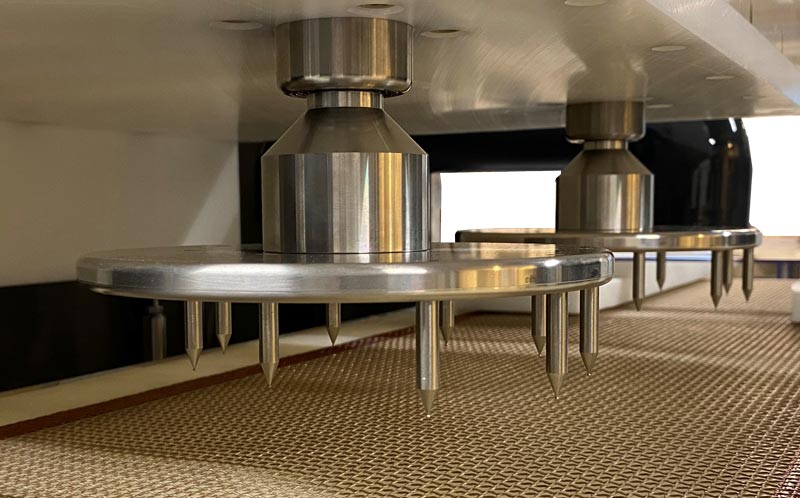 Corona surface treatment technology is an innovative and cost-effective solution to solve adhesion and wetting issues across many industries. Corona surface activation and surface cleaning are reliable and high-performance methods of surface preparation prior to printing, bonding, painting, varnishing, and coating processes.
Tantec RotoTEC-X solution
The RotoTEC-X comes equipped with a built-in conveyor for transporting the glass panels underneath the treatment head. This helps to ensure the unit operates at optimum treatment parameters and the required treatment speed is maintained. This allows for a repeatable process creating a high quality; consistent and reliable level of treatment throughout the manufacturing process.
Corona treatment solutions provide an economical solution for the cleaning and surface activation of "non-stick" polymers, composite blends, metals, ceramics, and glass before further processing. Corona treating provides flexibility and is an effective economical surface preparation method for sheet /web, complex geometry parts, extrusions, and many more.
The RotoTEC-X ensures a very uniform treatment process and offers the user full process control of all parameters. Tantec is a pioneer of developing equipment for surface treatment. Our objective is to solve adhesion problems for the glass industry, offering a unique surface treatment method to ensure a safe and clean global environment.