Improved adhesion for one of the largest manufacturers of ski bindings
The French ski binding manufacturer Look is one of the most famous and respected brands within the ski genre. Look's bindings represent the perfect combination of security and performance and are behind some of the most optimal solutions on the market. The ski binding specialist based in Nevers, is one of the largest manufacturers of high-performance bindings in the world.
A ski binding is the mechanism that holds a ski boot on a ski.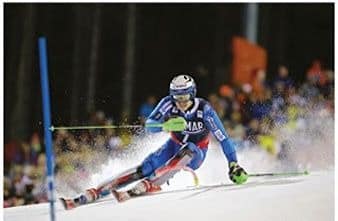 "We have had problems with manual flaming systems before. We don't have good adhesion of paint on the plastic parts. It is a problem in regards to Look's quality standard due to the very rough utilization conditions for ski binding. Large temperature differences from very low to warm temperatures have a big influence", says Mr. Olivier Duhamel, Look.
One of the biggest disadvantages of flame treating equipment is that it often causes shrinkage, surface cracks, and dulling. The Tantec VacuTEC system eliminates these issues as its process produces a uniform and consistent surface treatment to the plastic part. It also eliminates any fire hazards due to having open flames in the plant.
In addition, the work process has become faster, and at the same time a big savings on paint has been achieved, as there is minimal waste compared to the previous process.
Benefits for Look with Tantec's VacuTEC:
Improved working environment for the operator, using no dangerous gas and very high temperatures compared to flame treatment.
All parts are 100% surface treated, even in very difficult are as where flame treatment could not give the desired effect.
All parts are uniformly treated.
High Volume workflow has been significantly improved, as Look's VacuTEC is specially designed with multiple shelves based on the customers' needs and can now treat many items at the same time.
The VacuTEC offers very fast treatment times and optimum adhesion properties for downstream coating, gluing, painting and printing applications. In the vacuum treating chamber a vacuum is built up to between 0,5 and 6 mbar before an electrical discharge is created through the integrated plasma electrode.
This electrode to electrode technology helps to intensify the treatment resulting in shorter treatment cycle times and in most cases gases will not be necessary. Treatment times can be between 2-120 seconds depending on the material and its formulation.
The VacuTEC is appreciated for its simplicity of operation, reliability in production and fast process speed.
With VacuTEC, you have the ability to achieve:
Even and uniform treatment on all surfaces of three dimensional parts
Treatment of specific spots on three dimensional parts
Treatment of large parts
Surface modification without affecting the bulk material.
Cost efficiency and long-lasting durability of adhesion properties
Environmental friendly solution
Tantec offers standard and customized equipment to be integrated as a part of the production process, and can be integrated in new or existing on-line production environments.