SheetTEC improves the surface tension of acrylics and polycarbonates for adhesion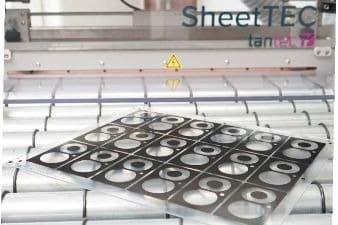 It is often necessary to coat sheets as part of the manufacturing process. In order for liquid adhesives, glues, coatings or inks to adhere to the surface of cast, molded or extruded plastics we must first modify the surface. The process of increasing surface energy will improve surface wettability, thereby promoting stronger adhesion.
One of the leading manufacturers of optical filters and display windows is located in Denmark. With more than 25 years of experience, PSC A/S has an in-depth knowledge of the guidance and design of solutions for exactly the customer's requirements and application. A challenge and a desire for better adhesion of printing inks lead to the contact with Tantec.
PSC manufactures customer- and application-specific optical filters and display windows for professional electronic devices, and a wide array of other applications. The many solutions are often used under demanding conditions, where, in addition to achieving the least possible reflection, the parts must also be resistant against various chemicals, wear and cleaning, rough use, vandalism etc.
The company offers Display window solutions made from a wide range of materials: Cast and Extruded Acrylic sheets, Polycarbonate and Glass. The Display windows are 'cover glasses' placed in front of electronic displays to improve or enhance the appearance, performance, and functionality of the display or the equipment.
High-performance surface treatment
In order for such solutions to provide the required functionality, high-performance surface treatments such as abrasion- and chemical resistant hardcoats, multi-layer anti-reflection (AR) coatings, are often applied to the sheet materials.
A common denominator for most of these, is that they efficiently repel dirt and contaminants "by design", i.e. "anti-fingerprint or anti-smudge" functionality, and in technical terms show an extremely low surface tension or energy!
In order to be able to print (screen, pad or inkjet) decorations such as passé partouts, symbols, logos etc. onto these surfaces, the surface tension has to be modified.
Easy to use
To meet the challenges of better adhesion, PSC chose to invest in a SheetTEC solution from Tantec.
"The solution is specially designed according to our needs,and the most important design requirements were fast, usablein both off-line (batch processing) and in on-line setups. Furthermore a high degree in treatment flexibility, i.e. speed,intensity, no. of passes and an intuitively easy-to-use interface(HMI) making it easy for operators to select the correct treatment was paramount", says Jesper Nielsen, Product Development Manager at PSC.
Environmentally friendly process
Corona treatment of sheets is considered an environmentally friendly process which runs at fairly low power consumption. Although ozone is generated as a bi-product of the corona discharge, it is easily eliminated either through existing exhaust systems or through a custom-built Tantec ozone neutralizing system. Materials such as PP, PE, PVC. PVDA, PMMA, PS and other non-conductive polymers are treated successfully with this concept.
SheetTEC features:
• Single or dual sided
• Environmentally friendly
• Customized design
• Process control
• Cost efficient treatment process
• Treatment thickness: Up to 50 mm
• Treatment width: 50 – 2000 mm
• Line speed: 0,5 – 10 m/min (others on request)