Tantec LeakTEC solution is vital for diagnosis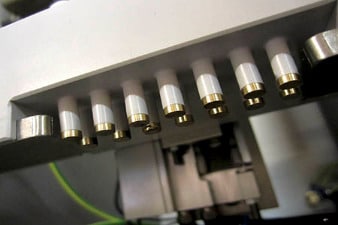 Leak detection is vital for multi well plates for use in diagnostic systems. Tantec has just delivered a LeakTEC system to a manufacturer of diagnostic systems for analysis of diseases, including Covid-19.
The leak detection systems purpose is to detect unwanted holes in the multi well plates.
Without this type of detection even a small hole can have serious consequences to the integrity and reliability of the tests.
Leaking also results in machine down time for cleaning to ensure a sterile environment is maintained.
Tantec's LeakTEC can detect pin holes smaller than 3 microns (0,003 mm).
This is achieved by introducing an electrical potential between a detecting electrode and an electrical ground. The electrical ground can be made of a metal jig or mandrel holding the part, while the plastic part itself acts as the insulator.
This detection takes place in milliseconds. In the event of detecting a crack or pin hole in the plastic material, an electrical contact is established between electrode and ground.
When this occurs the Tantec system sends a signal to the PLC or operator that a bad part is present.
The most common applications the Tantec leak detect systems are used for are molded and welded joints in medical devices.
Parts like medical tubes, containers, pipettes, cannulas and extruded film for medical bags etc.
Tantec has over 40 years of experience in leak detection. Tantec's ability to meet the many demands for leak detection of medical products is why the Tantec LeakTEC system is the preferred method used by medical device manufacturers.
Read case – Fully automatic leak detection system from Tantec makes a big difference for a customer