Plasma cleaning in the cable industry – Tantec scores with high speed and reliability
Whether it's about robotics, the automotive industry, or the power input of wind turbines: People and machines around the globe are supplied with power and information by billions of cables and wires. They form a worldwide infrastructure and are the lifelines of a digitized world, with enormous data streams flowing through them. This makes quality and innovation all the more important in modern connection technology – an industry which is attaching increasing importance to high-quality corona-processes.
"If cables and wires are printed with poor quality, or not at all, this can result in major financial losses. Tantec offers corona-pretreatments which are unmatched in their reliability."
HELUKABEL, an internationally successful family business with 1.700 employees and an annual turnover of 600 million euros, stands for the highest level of production standards. The hidden champion headquartered in Hemmingen near Stuttgart with 58 production and sales locations in 37 countries is one of the world's leading suppliers of cables, wires, and component parts.
HELUKABEL's portfolio does not only comprise a big selection of standard products but also customized solutions for numerous industries. "Reliability is our most important currency", says Ömer Durak, Head of Cable Construction, summarizing the company's secret of success. One of HELUKABEL's areas of expertise: Cables for 50 cm large cable-robots equipped with cameras, measuring equipment and nozzles – a high-tech device for municipal sewage systems. Technologically, these cables are considered the "supreme discipline", the graduate engineer explains – because from controls to cleaning liquid to compressed air, everything is comprised in one cable. The second challenge: An isolation of special elastomer with poor printability.
The labelling of wires with numbers or letters is a potential source of errors and hence considered very risky, Durak explains: "If wires are printed with poor quality, or not at all, this can result in major financial losses." To avoid such worst-case scenarios during production, Tantec offers corona-pretreatments which are unrivalled in their reliability.
"Tantec's modular CableTEC-system guarantees us a flawless, effective and safe production chain."
Because of the low surface energy of most insulations covers, ink and coatings usually do not adhere to them, which makes a corona surface treatment indispensable in the cable industry.
As a part of this treatment, organic residues and contaminants are removed by a high-voltage discharge and the surface energy is increased, so that ink and plastic can bond.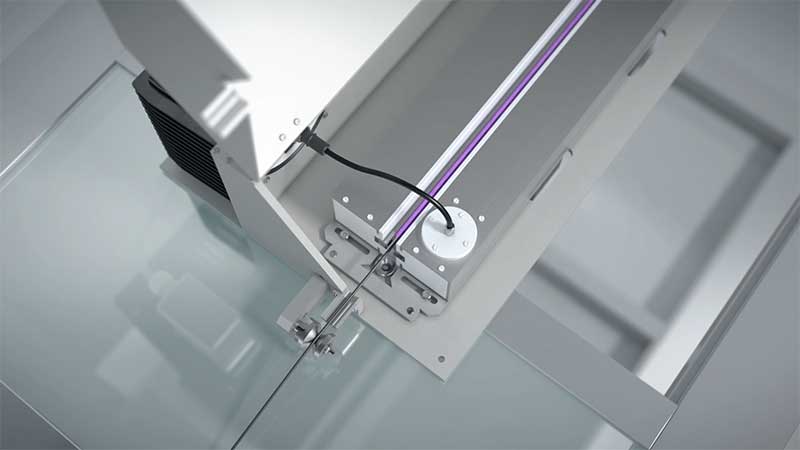 And why did HELUKABEL choose Tantec corona treaters? Especially because Tantec's high-quality and long-lasting products are unrivalled, Durak explains: "We promise our customers: We ensure the chemical, thermal, electrical and mechanical capacity of the cables and wires." But this commitment, according to Durak, also depends on the reliability of the corona process. "The modular CableTEC-system guarantees us a flawless, effective and safe production chain." In their decision for Tantec's corona solution, four criteria were crucial for HELUKABEL:
Quality and innovation
Alexander Kraus from the process engineering department explains that the electrodes in Tantec's corona treaters are made of a special ceramic alloy, which lasts much longer than other designs on the market. After negative experiences with less sophisticated products, which cracked after a brief period of time, HELUKABEL's engineers were skeptical at first. But, according to Kraus, everybody was pleasantly surprised by the result: "Indeed, Tantec's material does not show any hairline cracks and is almost maintenance-free. The ceramic electrodes rarely have to be replaced, which also is important to us in terms of sustainability."
Flexibility and capacity
Technician Matthias Sitzmann explains that other suppliers of corona treaters were not able to cope with HELUKABEL's highspeed system. The challenge: The faster cables are transported, the higher the mechanical load in the further processing. When in contact with eyelets and pulleys in stranding and braiding machines, humidity, temperatures, and abrasion become risk factors. Tantec's corona treaters have proven their reliability at low and high throughput times – in all lines. Matthias Sitzmann:
"Thanks to Tantec, the printing even withstands an extrusion speed of 1000 meters per minute."
To reduce the speed is not an option, he explains. This would reduce abrasion, but "the prices of the wires would no longer be competitive."
Safety and stability
Sitzmann adds that Tantec's products also distinguish themselves through their high level of safety. This affects, amongst others, the production of the largest HELUKABEL wires, which include up to 105 power and control cores, data technology and fiber optic cables and are installed in wind turbines. Since high voltage is applied during the corona surface treatment of plastics, a minimum distance to other devices must be kept in the factory hall. In this context, Tantec scores with a comparably small, space-saving device, because the more extensive designs of other products on the markets lead to shortcuts more often, the technician explains. Furthermore, corona treaters can start to move during extrusion due to thicker sections. The CableTEC system has a further advantage here, because big machines provoke greater risks than smaller ones.
Service, repair, and cost efficiency
For HELUKABEL, the most important factor in their decision for a corona process was the service, which according to Ömer Durak already stood the test during the quotation phase: "We were looking for a special collision protection, which was not available yet, neither at Tantec." But the Danish company made every effort to find a common solution. "Tantec showed us from the beginning: `No problem, we can do it´ and, in the end, they were able to put that into practice. We are still waiting for other competitors' quotations!"
"Thanks to Tantec's corona processes, HELUKABEL is spared from subsequent costs, which always arise when you save on quality."
Good experiences were had with Tantec's handling of support: Whenever questions about technology or operations are raised, experts are ready to give immediate advice, so that technical issues can be corrected with a phone call and handling difficulties can be solved on site.
If devices had to be sent back to the manufacturer, this would be considered a "dealbreaker" for a further collaboration, Durak explains. In this case, repair costs are not as important as impending production downtimes. "The most important thing is to avoid standstills" – because, compared to large core systems worth millions of euros, corona treaters are a small cost factor. "What may not happen under any circumstances is that the small machine causes a standstill of the big machine!"
To virtually exclude this case, HELUKABEL decided to order Tantec corona treaters. "They are a bit more expensive than other providers", summarizes Durak: "But due to the high-quality and reliable corona treatment, HELUKABEL is spared from subsequent costs, which always arise when you save on quality."